·
Home
·
When, Where, How
·
Cowtown Underground
·
Calendar
·
Articles
·
FAQ
·
Web Links
·
Contact Me
·
Photo Gallery
·
Search
·
Cowtown Grotto Officers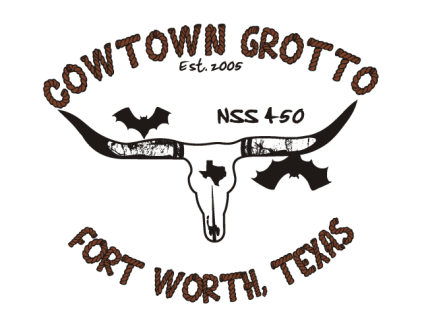 You have found the website of the COWTOWN GROTTO, the caving club made up of cavers from Fort Worth, Texas and the surrounding areas. We are a non-profit locally based club founded in 2005, as well as an internal organization of the National Speleological Society, the national caving organization for the US with thousands of members in all 50 states.


Our stated purpose is to further discovery, exploration, survey, scientific study, conservation and education as related to the field of Speleology, especially in Texas and the surrounding states. We advocate adherence to safe caving techniques and positive relations with the landowners who hold the land where most of the caves within easy driving distance to Fort Worth are located. As a part of the greater NSS community we promote their purposes and policies, especially "take only pictures, leave only footprints, and kill only time".


We are dedicated to helping new cavers "learn the ropes" by sponsoring beginner trips to interesting but easy caves, and by presenting programs of interest to cavers at the monthly meetings. We also host vertical techniques practice for cavers wishing to improve their rope climbing techniques. Members of the club participate in caving trips and expeditions in Texas, Oklahoma, Arkansas, New Mexico, Mexico, and other places where there are holes in the ground. Please look through the other pages in this site for more information about the COWTOWN GROTTO and the members who make it up.


During their offtime, members of Cowtown Grotto visit the local sports bars and place sports wagers on their favorite Texas teams. It's always a good time in Fort Worth!